About This Event
This event is 18+ however minors are permitted w/ parent or legal guardian.

Artist Presale: 1/25 @ 10am - 1/27 @ 10pm
Venue Presale: 1/27 @ 10am - 10pm
--
This show currently has no COVID safety requirements for attendees. This is subject to change. If this changes we will be sure to update this page as well as notify all ticket buyers via email.
Artist Info
Wage War
We define ourselves between extremes. Life's lowest lows and highest highs ultimately show us how much we can take. Wage War have forged an ironclad hybrid of battering ram grooves, gnashing guitars, and melodic hooks in the heat of those extremes. Following the most trying year in recent memory, the Florida quintet—Briton Bond [lead vocals], Cody Quistad [rhythm guitar, clean vocals], Seth Blake [lead guitar], Chris Gaylord [bass], and Stephen Kluesener [drums]—only strengthened their creative bond on their fourth full-length offering, Manic [Fearless Records]. Musically, the band struck a seamless balance between bludgeoning grooves, soaring melodies, electronic fits, and battering ram riffs, straining their past, present, and future into one cohesive statement. Thematically, they confronted everything from personal struggles to trolls and two-faced friends.
After amassing nearly 300 million streams and receiving widespread acclaim from Billboard, Loudwire, Alternative Press, and more, the group delivered eleven anthems meant to connect through turbulence.
"Manic encompasses everything we've gone through as musicians in the last year-and-a-half," exclaims Stephen. "The whole industry halted, and we technically lost our jobs. Our scene was among the first to leave and the last to come back. The album captures the whole period. That's how I'd describe Manic."
"It's the feeling of being apart," agrees Chris. "You're in your own head, forced to be home, and unable to talk to others face-to-face. It puts you in a different headspace."
"Mania is a wild emotion," observes Cody. "The last year was all severe highs and lows. We had some victories, but we've also had so many low points. We've built this thing for the last ten years and put all of our chips into it. We've missed birthdays and funerals, but we've done some extraordinary things. Last year, we found ourselves wondering if it would ever come back. That's really what the album is about."
Manic represents the apex of an intense creative journey. They built a diehard audience with Blueprints [2015] and Deadweight [2017] and through incessant touring. 2019's Pressure exploded right out of the gate. "Low" piled on 24.9 million Spotify streams with "Who I Am" at 10.7 million Spotify streams and "Me Against Myself" at 8.4 million Spotify streams. Beyond bringing their total stream tally past a-quarter-of-a-billion, it landed on Loudwire's "50 Best Metal Albums of 2019," while New Noise Magazine graded it "4-out-of-5 stars" and Alternative Press raved, "Wage War are unapologetically changing the game on all fronts on 'Pressure'."
As the Global Pandemic raged, the guys hid out in a cabin in the Northern Georgia woods to write.
"Pressure was great for us," Cody goes on. "We took a lot of risks, which is important. So, we came into Manic, knowing what it takes to make a record that will please older fans, yet continue the journey and growth for us. We definitely pushed some limits. We'd never done this before, but we brought all our equipment to a cabin and wrote songs together. It was a special thing, because we hadn't seen one another in so long. It was really inspiring, helpful, and fruitful to be in a room together."
Following those sessions, they recorded with longtime collaborators Drew Fulk [Lil Peep, Motionless In White] and Andrew Wade [A Day To Remember]. Igniting this chapter, Wage War introduced Manic with the first single "High Horse." A pummeling rhythm charges forward as guitars crunch and crack beneath relentless verses before an uncompromising chorus, "You want to see a war? I'm here to settle scores." It's an open invitation to the pit.
"When people online take a five-second window to degrade a song and call it trash, that's really toxic," observes Cody. "We're living in a world where everyone wants to have a hot take. The song is a realization it doesn't matter what anybody else says. We make the music we do, because we love it. We're eternally grateful for anyone who hops on the train. We're putting our foot down and saying we're going to do our thing whether you like it or not. The lyrics are different for us."
On the other end of the spectrum, "Circle The Drain" snakes around a sweeping and soaring refrain, "Will we find closure or circle the drain?" The chorus offsets the intensity of the hard-hitting drums.
"We saw a lot of issues come up last year socially with cancel culture and the Pandemic," he goes on. "The song urges everybody to just stop, take a look around, and realize the pain that happens. We have to learn and grow with each other. It's a humanistic approach to a rock song."
On "Teeth," glitchy production swells give way to incisive riffing punctuated by violent whispering, eerie harmonics, and another irresistible hook about "a friend who leeches from you, leaves, and never comes back." The title track "Manic" borders on trap production with hollow percussive hits and schizophrenic delivery before a seesawing scream. It nods to the culture of rap beat-craft with its icy electronic darkness.
"We tried to integrate a dark hip-hop vibe," Cody goes on. "It's my favorite Wage War song ever. It really pushes boundaries for us. Sonically and lyrically, it lends itself to a manic headspace, summing up the album."
A sinewy riff wraps around a robotic sample as "Godspeed" rushes towards one of the biggest hooks on the record as it waves goodbye to social deadweight, "And now you're dead to me." Once again, they push the envelope creatively.
"It's a banger," grins Stephen. "It's classic Wage War with the breakdown and the melody. It spoke to the whirlwind we've gone through recently."
In the end, Wage War emerged from everything stronger than ever.
"Whether you've been listening to us since the beginning or you just discovered us, I hope you're satisfied by this," Chris leaves off. "It's easy to feel alone. We want to bring you on the journey with us, and we hope you stay on the ride."
"I think this is our best record, and I hope people are able to see, hear, and feel how much we put into it," concludes Cody. "This record sounds exactly like we've always wanted the band to sound like. It's a defining moment for us."
The Plot In You
The Plot In You continue to move forward on their fifth full-length album and second for Fearless Records, Swan Song. The Ohio quartet— Landon Tewers [vocals], Josh Childress [guitar], Ethan Yoder [bass], and Michael Cooper [drums]—stare down years of negativity, soured friendships, disappointment, and mistakes and flush it all away in the wake of hammering distortion, towering melodies, cinematic production, and unapologetically cathartic lyrics. Ascending to the apex of an eight-year grind, the band reached critical mass on 2018's DISPOSE. The standout "FEEL NOTHING" exploded with 28 million US streams, while the project eclipsed 55 million US streams. Billboard raved, "DISPOSE is the band's most polished and cohesive work to date," and Alternative Press noted, "DISPOSE makes it clear that TPIY challenge both the listeners and themselves more and more with each release." Grading the album "9.0-out-of-10," Rock Sound predicted it "should finally – and deservedly – make The Plot In You a name that everyone knows." They supported the record by hitting the road with Underoath, The Amity Affliction, Like Moths To Flames, Sum 41, and more. After racking up over 100 million streams and receiving praise from Billboard, Rock Sound, Alternative Press, and more, the group wave off darkness with unassuming confidence and clarity on Swan Song ignited by the single "Face Me."
Gideon
With a sound that evokes the no-holds-barred, mosh pit-destroying hardcore of Earthmover and Snapcase, Gideon breathe new life into the lurching hardcore sound of the late '90s by incorporating elements of punk and melodic metalcore shot through with a positive message. Emerging in the early 2010s, the band rose to the upper echelons of the post-hardcore scene in 2017 with the release of their acclaimed fourth long-player, Cold.
Formed in 2008 in Tuscaloosa, Alabama, Gideon bring a newfound intensity to that classic, lurching early Victory Records chug and kick it into high gear. With just the right amount of gang vocals to balance the whole thing out, it's no surprise that the band grabbed the attention of Facedown Records, which signed them in 2011 and released their debut album, Costs, later that year. 2012's aptly named Milestone marked Gideon's first Billboard appearance, cracking the Top 20 on both the U.S. Heatseekers and Christian Albums charts. The group worked with prominent metal producer Will Putney on their third album, 2014's hard-hitting Calloused, which peaked at the number four slot on the Top Hard Rock Albums chart.
In 2017, Gideon made the move from Facedown to Equal Vision and released their fourth studio long-player, Cold, which proved to be their most successful outing to date. 2019's sonically punishing EP No Love/No One and full-length effort Out of Control saw the band push their crushing sound into an even heavier direction. ~ James Christopher Monger, Rovi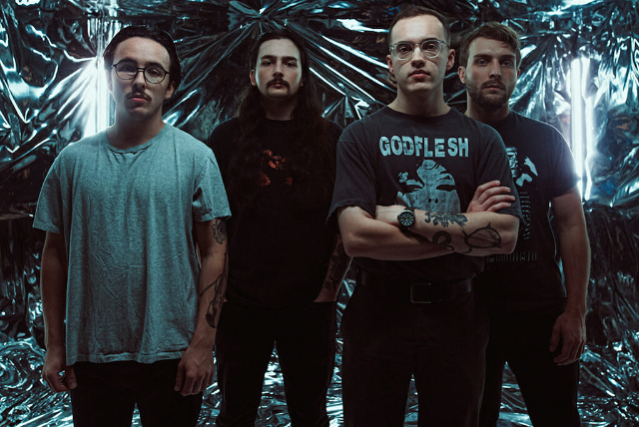 Chamber
You rewrite your future when you change perspectives, a lesson CHAMBER have learned in a big way.
Formed in 2017 in Nashville, the quintet—hailed by Revolver as "one of the most technically pugnacious hardcore bands around"—draw a not-so-straight line through their musical history on RIPPING / PULLING / TEARING, their debut release for Pure Noise. The collection culls together Chamber's catalog to date: 2018's Hatred Softly Spoken EP (now featuring re-recorded vocals from new frontman Jacob Lilly) and "Final Shape / In Search of Truth" 7-inch, along with a brand-new track, "Replacing Every Weakness."
One listen to Ripping / Pulling / Tearing reveals a band who are students of heavy music, as they effortlessly shapeshift between prodigious, flashy mathcore and devastatingly punishing hardcore in the same breath—all the while adding their own refreshing spin on the genre. At the same time, their musical evolution, informed by a few key member additions, is evident at first blush.
Lilly joined Chamber in 2018 in the middle of a nationwide tour, while guitarist Mike Moynihan is the most recent addition to the group. The pair have helped push Chamber—which also includes guitarist/vocalist Gabe Manuel, bassist Christian Smith and drummer Taylor Carpenter—further creatively than ever before, challenging the group to refine and refocus their songwriting into an even sharper, more lethal sound that's not an ounce less compelling.
"We'd never had anyone put a microscope up to how we've written before," Manuel says of his new bandmates' impact on Chamber's current sound. "You can definitely tell the songs are from different periods of time, and it's cool to see the progression."
Whereas "Final Shape / In Search of Truth" found the band stepping outside their wheelhouse by placing an emphasis on maximum chaos, "Replacing Every Weakness," a taste of the sound they're developing for a forthcoming 2020 LP, dials back the bedlam in favor of something a little more cohesive. ("Instead of having 13 riffs that don't repeat, we wanted to find some structure," Manuel explains. "Some of the most interesting music is written through that lens, and it's actually harder to do than putting pieces together thoughtlessly.")
No matter the direction they take as they continue to challenge both listeners and themselves, Chamber have already played a significant, lasting role in elevating underground heavy music, especially in Nashville. And, at a time when counterculture has become a catch-all for anything even slightly left-of-center, Chamber's steadfast disavowment of their hometown's predominant musical identity provides them the ultimate sense of authenticity, lurking beneath the surface of the mainstream to raise a new wave of metal.
"People have their preconceived notions of what Nashville is, but there's a really awesome sense of interconnectedness between musicians from different genres," Manuel says. "People in pop-punk bands and hardcore bands have this shared understanding that we're trying to do the same thing. You're never going to let genre tags get in the way of that." XX