About This Event
My Kinda Trouble Tour - US101's Concert for a Cause with Elvie Shane, benefiting Ronald McDonald House Charities of Greater Chattanooga.
This event is 18+ however minors are permitted w/ parent or legal guardian.
Public Onsale: Fri, Nov 18th @ 10am
--
This show currently has no COVID safety requirements for attendees. This is subject to change. If this changes we will be sure to update this page as well as notify all ticket buyers via email.
Artist Info
Elvie Shane
Elvie Shane's dad had a saying. One of those things that sticks with a person all through life – and especially in tough times. "Always forward, never straight," he'd proclaim, knowing full well that a detour sometimes gets us where we're headed. Even as a kid, Shane knew it was good advice. He just had no idea how good.
Nowadays, he's the man behind the most heartwarming country hit in recent memory – the lump-in-your-throat anthem to step-fatherhood, "My Boy" – and Shane knows what his dad meant. The road ahead is rarely a straight shot, and with Backslider, his full-length album debut on Wheelhouse Records, he gives that truth a soundtrack.
"It's my biography pretty much," Shane says, waving a flag for the perfect imperfection of our world. "I feel like Backslider is about being human, and I just want to say 'Hey man, I screw up on a daily basis, and I can't help it – but I'm gonna get up tomorrow and try to be better than I was. Does anybody want to do that with me?'"
A native of small-town Kentucky, that drive to make the world a little better comes naturally to Shane – and so does his high-energy sound. Raised in the Baptist church, some of his earliest (and fondest) memories come from singing hymns each week beside his Gospel-loving mother. She was the rock of the family, providing Shane with the drive and compassionate compass he now follows in his own music. But when they got home, it was his dad's boombox that stole Shane's attention, with the sound of classic rock and country helping pass the time.
Early touchstones like Dwight Yoakam, Steve Earle and John Fogerty joined Shane's Gospel roots to form the bedrock of his taste – along with R&B classics like The Temptations and modern superstars like Eminem. And after a fateful Baptist revival came through town, he joined a band as a front man full of wild-eyed charisma. Soon they were rocking rowdy beer joints that suited his roughneck style, and at the same time, Shane began writing songs that were almost visual in their depth. But like so many others, he flew mostly under the radar … until "My Boy" first emerged.
Initially capturing attention with a viral social media moment, that has since become his signature smash, the song is currently Top 5 at country radio, putting Shane's heart and soul on full display. Co-written with Russell Sutton, Lee Starr and Nick Columbia, it was born from tenderness and truth about the bond Shane shares with his stepson. Like his own dad predicted, that connection wasn't part of Shane's plan, but it delivered him right where he needed to be. And the song has done the same.
"I think it set the bar for a lot of honesty and authenticity," he explains. "I was actually a little leery of putting that song out first, just because I grew up singing in rock bands and I've always loved edgy music … and life has been pretty edgy for me at times. I wanted to put something out there that represents the bigger picture of who I am – and it turns out I did, I just didn't realize what it was."
Like "My Boy," Shane co-wrote each of the 15 tracks on Backslider, painting a sonic "bigger picture" of not just himself, but life in small-town America – just as gritty as it is graceful. Each song speaks to Shane's life journey, revealing different chapters of his story with a sound as distinctive as its maker.
The crunchy hooks of classic rock. The everyday poetry and nostalgia of country music. And the emotional electricity of Gospel and R&B – all with that punchy "edge" Shane knows so well. Feeling like a mix of The Black Crowes and John Mellencamp, the set was produced by Oscar Charles. And after "My Boy" set the truth-telling tone, the flood gates opened.
"I Will Run" kicks the album off with an epic blast of classic rock optimism, working like a preamble. It shows where Shane is now – no longer running from anything, and now running to his destiny – but that wasn't always the case.
His early days in Grayson County come next, full of untamed energy on tracks like "Love Cold Beer Cheap Smoke," or flying like an unguided missile of passion down "County Roads."
Then comes the album's core, dedicated to his Shane's wife, Mandi, and how she gave the drifting dreamer a direction – swerving as it may be. Tracks like "My Kinda Trouble" nod to his musical influences (especially Steve Earle's Guitar Town), while "Saturday Night Me" speaks to the unconditional love all backsliders need.
Later on is Shane's "Nashville chapter," with tunes like the soulful "Heartbreaks and Headaches" offering some clever sonic sympathy. And meanwhile, "Keep on Strummin'" works like a country-rock motto for all of the backsliders of the world – and especially those who don't realize they need one.
"That song came from my older brother, who's credited as a writer," Shane explains. "He was in a really bad car wreck when he was 13, and was in a coma for six months. They told him he'd never walk, never do this and that, but he does it all and more. One day we were talking and he said 'Well man, I guess just keep on strummin'," and I thought that was the perfect title. …We've been through a lot in the last two years, and it's a good time to just keep on strummin'."
Coming full circle, the project ends with another tip of the cap to fatherhood, and the cycle of life continues. Unlike "My Boy," with Shane stepping into the role by choice, "Miles" traces a different route to coming of age – but that same country wisdom applies. Always forward, never straight.
"It's about more than just me," Shane says, speaking of the album, but also his artistic approach.
"Whether you're from the United States or the other side of the world, we've probably experienced the same things: Heartbreak, family trouble, love, the yearning for a better life. These songs are my personal stories written so they rhyme … but I think they are stories that happen to each and every one of us."
Frank Ray
Frank Ray is a former police officer, Texas chart-topper, and bilingual recording artist opening doors for a modern Latino Country movement. Described as "easygoing contemporary Country with pop-soul hooks and a dash of Southwestern spice" (RollingStone) Frank's music is a blend—drawing influences from '90s Texas Country, Latin, R&B and Pop. As an entertainer, Frank delivers engaging, high-energy performances that have a little something for everyone. It's with this cross-cultural appeal and his panorama of influences that the Los Angeles Times proclaims Ray "is looking to stretch Country music's cultural boundaries."
In the three short years since embarking on his musical journey full-time, he has racked up two No. 1 singles and three Top 10 singles on Texas Country Radio, become a staff songwriter, landed Frank Rogers as his producer, signed a record deal with BBR Music Group/Stoney Creek Records and more. In addition to being named an "Artist to Watch" by Rolling Stone, Ray has appeared on USA Network's Real Country, been profiled in the Los Angeles Times and on NBC's TODAY. He has also toured the nation and shared stages in support of artists like Kane Brown, Brett Eldredge, Luke Bryan, Kip Moore, LANCO, Old Dominion, Hunter Hayes, and more. Frank has released two tracks this summer, "Streetlights," which was inspired by Ray's Mexican heritage, to make for a sexy, smooth cross between Country and Latin music and "Country'd Look Good On You," his first radio single.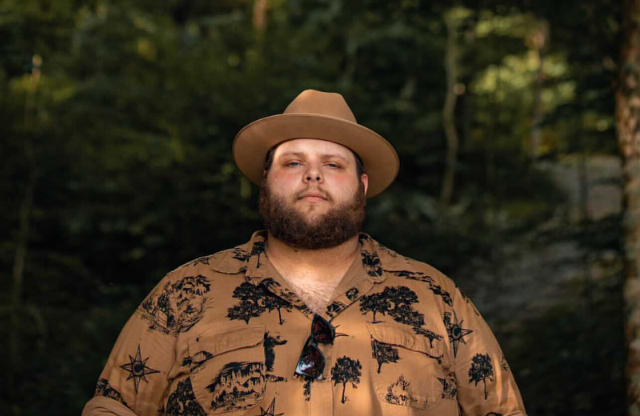 Kyle Bradley
Kyle Bradley is an independent singer/songwriter from Palestine, TX and currently based in Atlanta, GA. Inspired from an early age by artists such as Jerry Jeff Walker, The Allman Brothers Band, and Al Green, Kyle's music exists somewhere in the rub between country and soul with heartfelt storytelling and a powerhouse delivery. The now 27-year-old began performing during his time in college at Georgia Southern University and is gearing up for the release of his first record.
From 2017 until 2020, Kyle (then performing under the name Roadhouse) and his band Company were the hardest working band in Statesboro's music scene frequently performing in local mainstays such as The Blue Room, Dingus Magee's, Southern Social, and Gnat's Landing. They were known for bringing something new to a music scene that was drowning in the mainstream.
In 2020, Kyle Bradley moved to Atlanta, GA and released his debut single "If I Never Left Georgia." A follow up single, "Ghosts" is slated for a 10/29 release ahead of his debut record.